NAIRO to host 2020 Educational Symposium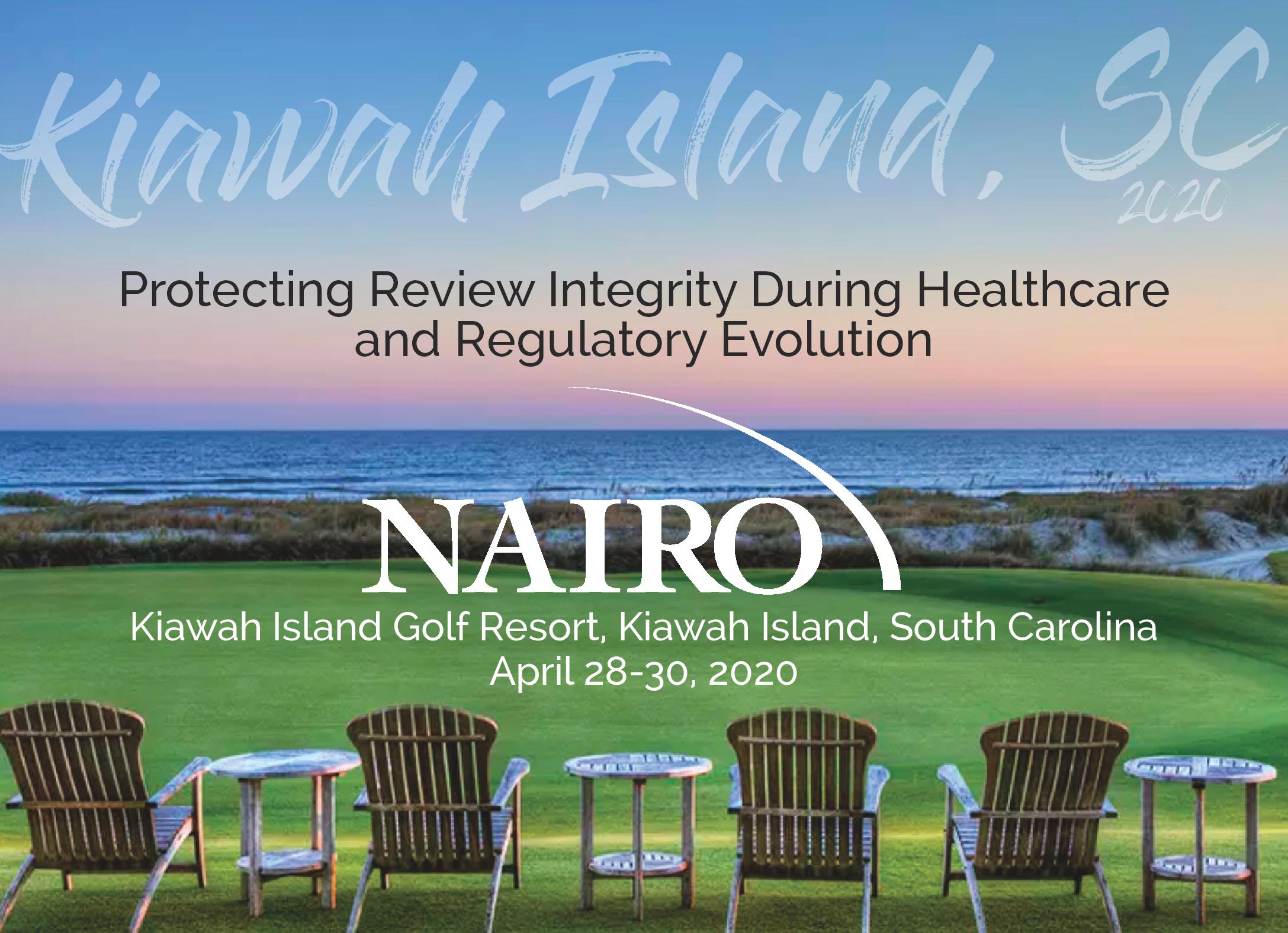 ALBANY, NY – February 28, 2020, – The National Association of Independent Review Organizations (NAIRO), the nation's leading voice of independent medical peer review, is pleased to announce its annual Educational Symposium on April 28-30, 2020 at the Kiawah Island Golf Resort in South Carolina.
The NAIRO Symposium offers two days of networking and in-depth education, with sessions focusing on a range of topics relevant to the independent review of healthcare claims.  The event's 2020 theme is "Protecting Review Integrity During Healthcare and Regulatory Evolution," and will highlight changes in the healthcare and regulatory environment and their subsequent impact on Independent Review Organizations, Workers' Compensation Organizations and Health Utilization Management Organizations.
The Symposium features a keynote address from Dr. Shawn Griffin, President and CEO of URAC, the nation's largest independent healthcare accreditor.
Additional guest speakers include:
Morris Auster, Senior VP and Chief Legislative Counsel of the Medical Society of the State of NY, discussing New York State's surprise billing law,
Kelly Kenney, CEO of the Physicians Advocacy Institute (PAI), addressing fair audit advocacy efforts and the administrative burden associated with regulations,
Donna Merrick, Product Enhancement Principal at URAC, who will go in-depth looking at the latest updates to IRO accreditation standards and scoring methodology,
Mara Osman, Senior Regional Director for State Affairs of America's Health Insurance Plans (AHIP), looking at the national dialogue and governmental activity on key issues facing consumers and health insurance providers, such as high cost prescription drugs, surprise medical bills, and safe care,
Keith Landry, partner at the Lafayette office of Allen & Gooch, discussing the current state of utilization management in Louisiana, and
Leland Keyt, Regulatory Affairs professional at Pulmonx, addressing FDA approval for medical devices.
Please visit www.nairo.org/annual-symposium to learn more and register.
Generous support of the NAIRO Educational Symposium is provided by… 
Bronze Sponsors

AllMed | Doctus USA | Morgan Consulting |  Nexus | URAC
Branding Sponsors
Capitol Hill Management Services | Empire State Medical, Scientific and Educational Foundation |
GPS Consulting Services | iMEDECS
Share this post: